* PLEASE NOTE: All of our classes and workshops are now held at our new studio at 811 Princess Ave, VICTORIA, BC.
The "Intro to Clay" classes at Hands On Pottery are the ideal way to experience what it's like to create something out of clay. You will learn how to make cups & bowls on the potter's wheel, how to hand-build a magnificent mug and techniques to glaze them all. We will show you how to transform lumps of clay into glazed and finished masterpieces in just three classes!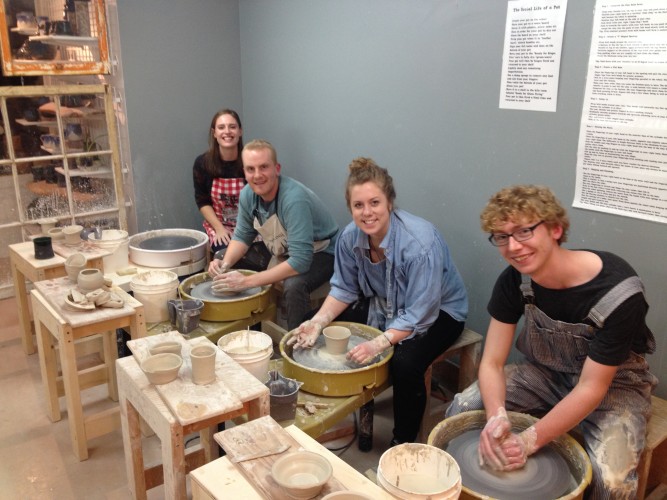 You just need to show up in clothes that can get a bit dirt and be ready to have a lot of fun. We guarantee you will take home pieces you can be proud of.
DURATION:
4 consecutive Saturday morning classes 10:00am – 12:30pm
(2018 schedule)
4 – CLASS COURSE TUITION: $180 plus tax (full payment required to secure your spot)
WHAT'S INCLUDED: Everything! Clay, glazing, firings and all the necessary tools.
We will confirm your booking as soon as we receive payment. Payments can be made by e-transfer to info@handsonpottery.ca, in person at our office, or contact us to request an invoice you can use to pay online with a credit card.
Click one of the sessions below to register. Spaces will fill up quickly!
February 2018 Session
Saturdays: 10:00am – 12:30pm – February 17th – March 10th, 2018 – SOLD OUT!
March 2018 Session
Saturdays: 10:00am – 12:30pm – March 24th – April 14th, 2018
May 2018 Session
Saturdays: 10:00am – 12:30pm – May 5th – May 26th, 2018
*Missed Classes
Missed Intro to Clay classes can be rescheduled before the 1st day of the session at no extra cost. After the session begins, any missed classes can be made up for a discounted rate of $25 per class.
*Cancellations must be made 7 days prior to the beginning of your session. If you must cancel your reservation less than 7 days before the first class, Hands On Pottery will keep 50% of the total cost.